Oklahoma Memorial Stadium Seating Chart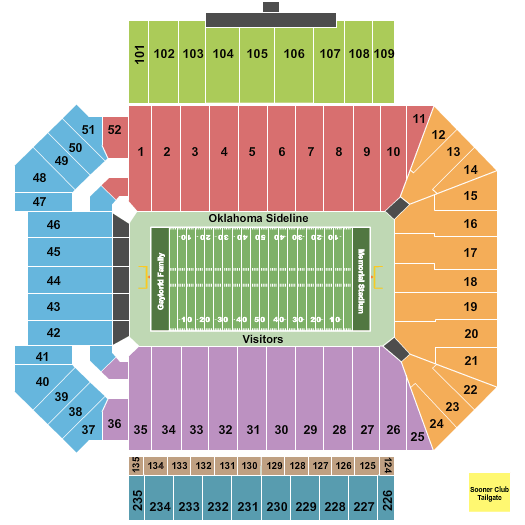 NOTE: Seating configurations can change depending on the type of event. Always check the individual event seating chart when selecting your tickets.
As of the 2016 season, visitor seating was relocated to the south end zone and the southern sections of the east side.
The student seating sections are in the east stands, surrounding the 350-member Pride of Oklahoma band which sits in section 29, between the 20- and 35-yard lines. They are located in sections 26-30.
The Sooners' bench was once located on the east side with the students, but the home bench was moved to the west side in the mid-1990s. The Oklahoma sideline is in front of West sections 4-7. The opposing sideline is in front of East sections 29-32.
The stadium consist of three club areas, which are the Stadium Club, Santee Lounge, and the South Club. These seats come with chairback seatings, indoor restrooms, flat scree TVs, and a buffet that you can purchase. Clearly, they are the best seats for fans who can afford as it they offer superior experience and view.
For those who are on a slightly tighter budget, we would suggest for you to purchase seats in section 104-106 as it is near the midfield, has chairback seating, and proper shade in the afternoon. Other seats that have shading are in section 1 rows 59, sections 124 row 11, and higher seats. You can also find covered seats in sections 27-35 rows 70 and higher but do not expect for a great view as it is rather far from the field.
Secure your seat today by purchasing your tickets. Visit the Oklahoma Memorial Stadium schedule to get started.
To view the ticket & refund policy please read the ticket information page.